User Groups
User groups are used to create preset permissions that can be applied to new users of the system.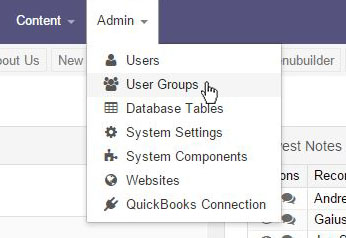 User groups are viewed in list form. To create a new user group, click on the New User Group button. To edit an existing group, click on the pencil icon next to the group name.

Upon creating or editing a user group, a configuration screen will open. Give the user group a name.


Below the name, are tabs for the different types of permissions. Open each tab individually and set the permissions within.


Slide each permission you wish to grant to this group over to the Enabled position. If you wish to set all at once, use the Enable All or Disable All buttons on each tab.


Once all permissions are set, click the Save User Group button at the bottom of the screen.
Articles in this section
Have an additional question about any of our tools that you can't find the answer to? Submit it here and we will be in contact to help you!