My Mail
My Mail is an email client that can access any IMAP compatible email account, such as Gmail, office365 or Microsoft Exchange. The real value of the email client is its deep integration with the CRM, allowing you to email contacts directly from your personal email account, and automatically storing a communication history directly on the contact's record.
---
Viewing and Searching Emails
In this sidebar you will see a list of all the mailbox folders you currently have associated with your account. The currently selected folder will be remembered for the next time you return to the view.



If you have created new folders or made adjustments to the existing ones, you can synchronize your changes by clicking the Refresh folders link.



Quickly find specific email messages by subject, body text, from or to address using this search box.


---
Organizing, Deleting & Other Actions
Upon selecting one or more email messages from the list view, you can perform various actions, such as deleting them, moving them to other folders, or changing their read status.


---
Save to Communication History
A powerful feature of the mail client, Save to communication history, is available via the More actions menu. It allows you to log any past email messages to the communication history of the contacts of your choosing.




Alternatively, you can use the Quicksave to communication history option, which automates the entire process, automatically storing the email on the correct contact records, based on their associated email addresses.


---
Composing a New Message
Use the Compose button to open the compose view and send a new email message. The compose view can also be quickly accessed from anywhere in the system by opening the My Mail menu on the top right-hand side of the main system interface.
The new email will open.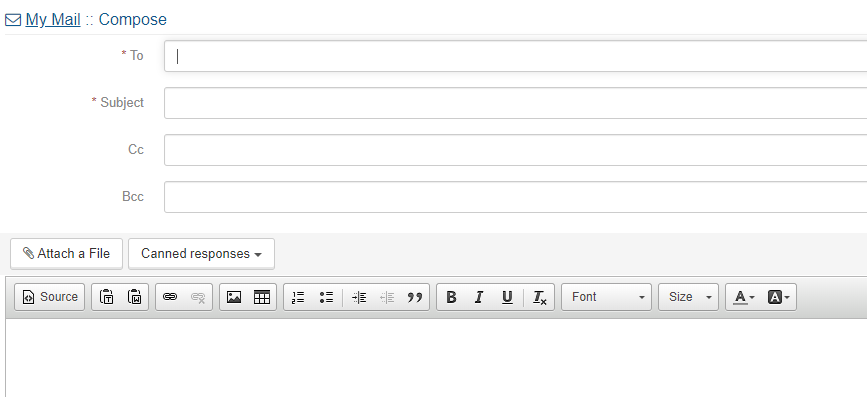 When populating the "To", "Cc", or "Bcc" areas, as you type the email or nameof the reciepient, the system will being to autopopulate with contact records. Click the name you wish to send the email to. Ensure you have filled in the Subject line, and use the WYSIWYG editor to compose your email meesage. When you are fininshed, click on the Send button. Any emails send from this view will be automatically saves to the communication history of that record.
Articles in this section
Have an additional question about any of the tools that you answered? Submit it here, and we will be in contact to help you!