Sharing Files with Clients
Through the use of the client portal, you can make files available to clients for download to their computer. To load the files you wish to make available, use the file browser located in your toolset. Once logged in, click on Content, and choose File Browser.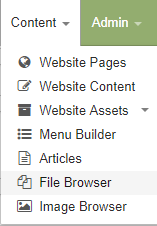 Your File Browser will open, with all files located in the browser available. To make a file available on the client portal, chose the Archive folder, located as a subfolder to the Files folder.

Any files located in the folder will be available ont he client portal to those user who are granted permission to it.
Have an additional question about any of our tools that you can't find the answer to? Submit it here and we will be in contact to help you!