Dashboard
The toolset home page is your own personalized dashboard, which can house a variety of panels that provide quick access to data from many other parts of the system. Panels can be resized and moved around the dashboard area as you see fit.
---
Add & Refresh Panels
The Add panels button opens a menu containing all available panels. Selecting a panel from the menu will place it in an open space on your dashboard.
The Refresh all button will refresh the content of all open dashboard panels.
---
​Search, Notifications, Calendar, Mail & My Profile
The global search box allows you to quickly search for and access CRM records that you have permission to view. Use the Alt+S shortcut to automatically place the cursor in the search box from anywhere in the system.

The Calendar provides a full month, week, and day view of all events occurring within the system that belong to you. From the calendar, you can edit existing items and create new ones, as well as export them via the iCal format.

My Mail is an in-system e-mail client that will allow you to use any IMAP enabled e-mail service. In order to use this feature, you must first provide your e-mail account settings in Edit Profile.
Notifications displays a list of any new or unread items and events that have occurred in the system. The system will automatically check for new notifications on a regular interval, and will display a visible count on the notifications pane button.

My Profile contains a dropdown where you can edit your profile, hide and clear recent places, access the help center, submit a request, get system updates, and sign out.
---
​Recent Places
The Recent Places toolbar displays the last 15 pages you visited within the system.


This bar can be hidden by clicking on the Profile button and then clicking Hide recent places.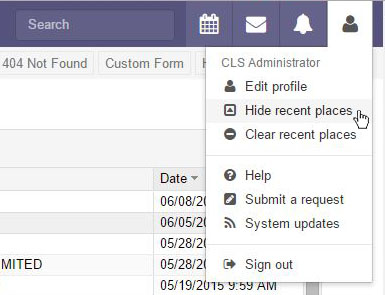 The recent places history can also be cleared by clicking Clear recent places.
Articles in this section
Have an additional question about any of the tools that you answered? Submit it here, and we will be in contact to help you!